The 48th annual induction banquet will be today, Saturday, May 21, at the Birmingham Ballroom of the Sheraton Birmingham Hotel. A public reception is at 5:30 p.m. and the banquet starts at 6:30.
Edgar Welden is this year's Distingushed American Sportsman.
Here's a quick look at the inductees.
James Brooks

James Brooks (Solomon Crenshaw Jr./Alabama NewsCenter)
A native of Warner Robins, Ga., Brooks was selected All-SEC first team and second team All-American in 1980 while playing running back for Auburn. He set school records for both kickoff return yards (1,726) and all-purpose yards (5,596). He also scored 30 touchdowns during his Auburn career.
Brooks was a first-round draft choice of the San Diego Chargers and played 13 seasons with four different teams (the Chargers, Cincinnati Bengals, Cleveland Browns and Tampa Bay Buccaneers).  He was a four-time Pro Bowl Selection with the Bengals (1986, 1988, 1989, and 1990).
– See more at: http://alabamanewscenter.com/2016/05/21/football-baseball-greats-among-2016-inductees-alabama-sports-hall-fame/#sthash.xonGv8LA.dpuf
David Cutcliffe

David Cutcliffe (Solomon Crenshaw Jr./Alabama NewsCenter)
A native of Birmingham, Cutcliffe was a long-time assistant coach at Tennessee, where he received the Frank Broyles Award in 1998 as the Best Assistant Coach of the Year. He was also Tennessee's offensive coordinator when the Vols won the national championship in 1998.
As head coach at Ole Miss, he led the Rebels to four bowl victories. The Rebels tied for the SEC Western Division championship in 2003. He was named SEC Coach of the Year in 2003. He is now the head coach of Duke.
Jim Fulmer

Jim Fulmer (Solomon Crenshaw Jr./Alabama NewsCenter)
A native of Florence, Fulmer was a part of the 1956 Crimson Tide basketball squad that went undefeated in Southeastern Conference play to win the conference's regular season title. He led the team in scoring in 1957 with 557 points and averaged 21.4 points per game. Also that year he led the team in field goal attempts (481) and tied for field goals made (184) in a season. He also led the team in free throw attempts (263) and free throws made (189).
Fulmer led the Tide in rebounding in both 1957 and 1958 with 383 and 225. He presently ranks third all-time in single season rebounds with 383 and ranks sixth overall in career average rebounds per game with 9.4.
Oscar Gamble

Oscar Gamble, right, with Scott Myers of the Alabama Sports Hall of Fame. (Solomon Crenshaw Jr./Alabama NewsCenter)
Gamble played 17 seasons in the major leagues for seven teams (Chicago Cubs, Philadelphia Phillies, Cleveland Indians, New York Yankees (twice), Chicago White Sox (twice), San Diego Padres and Texas Rangers). The Ramer native had a career batting average of .265, with 200 home runs and 666 RBIs.
Gamble's best overall season was in 1977 with the Chicago White Sox, when he had a .297 batting average, career highs in home runs (31), RBIs (83), runs (75), and doubles (22). His best year hitting was in 1979 when he played for both the Texas Rangers and New York Yankees, with a .358 batting average.
Martha Jones Lang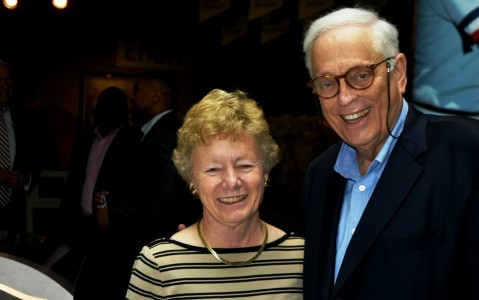 A native of Decatur, Jones Lang played golf collegiately at the University of Alabama, where she earned All-American honors. She won the Alabama State Junior Championship four consecutive years (1967-1970) and the Alabama State Amateur Championship in 1973.
Jones Lang won the Women's Southern Golf Championship twice (1974 &1980). She also won the Women's State Amateur in Texas (1979), and had a successful amateur career in Louisiana as well.
Chris Samuels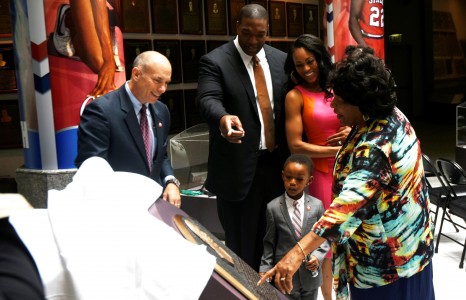 Samuels won the Outland Trophy as the nation's best college interior lineman for the University of Alabama. He also won the Jacobs Blocking Trophy as the SEC's most outstanding blocker in 1999. The Mobile native was a consensus All-American and first-team All-SEC pick. In his 42 starts for the Crimson Tide, he never yielded a sack.
Samuels was drafted third overall in the 2000 NFL Draft by the Washington Redskins. He played his entire NFL career (10 seasons) with the Redskins.
Calvin Smith

Calvin Smith (Solomon Crenshaw Jr./Alabama NewsCenter)
Smith has the distinction of having been the fastest man in the world. He was a star sprinter at the University of Alabama, where he was an eight-time All-American (four times indoor and four time's outdoors).
The Bolton, Miss., native won a gold medal in the 1984 Summer Olympics in the four-by-100 meter relay; and a bronze medal in the 1988 Olympics in the 100-meter dash. At the 1987 World Championships, Smith successfully defended his 200-meter gold medal. In 2007, he was inducted into the National Track and Field Hall of Fame.
Andrew Toney
A product of Birmingham's Glenn High School, Toney averaged 26.1 points per game in his senior season and 23.6 points for his career at Southwestern Louisiana.
The shooting guard was drafted eighth overall in the 1980 NBA Draft by the Philadelphia 76ers. He played eight seasons – all with the 76ers – and was named to the NBA All-Star Team two consecutive years (1982 and 1983), helping lead the Sixers to the NBA Championship in 1982-1983 over the L.A. Lakers.
Edgar Welden
In 2002, the 2016 Distinguished American Sportsman founded the Birmingham Athletic Partnership, a non-profit organization which supports the city of Birmingham's public middle and high school athletic programs.
Welden, a native of Wetumpka, co-chaired the committee that was instrumental in bringing the World Games to Birmingham in 2021. He now serves as chairman of the board.